RESEARCH STRATEGY
Aquafin's research strategy focuses on three main areas, dealing with the global challenges for wastewater treatment:

Sustainable wastewater treatment

The most important achievement in domestic wastewater treatment is undoubtedly that people are no longer vulnerable to wastewater diseases and that water bodies are recovering to a good ecological status. However, the wastewater treatment process itself also contributes to our ecological footprint through energy consumption, greenhouse gas emissions and the use of resources.

Research projects addressing the minimization of greenhouse gas emissions (direct as well as indirect) and recovery of valuable resources (energy, nutrients, water) contribute to the development of future wastewater treatment concepts that minimize the ecological impact without compromising the effluent constraints.

Integrated water resources management

The contribution from Aquafin, as a wastewater utility, to obtain the good quality of surface waters, as set out by the Water Framework Directive, is crucial. In this perspective, Aquafin R&D explores a wide range of options to improve receiving water quality by a set of research projects focusing on the mitigation of the impact of the sanitation system caused by combined sewer overflow spills and WWTP effluent discharges into the water ecosystem.

Managing ageing or expanding infrastructure needs a lot of expertise. In order to bring its network up to optimal condition and maintain it at that level, Aquafin invests in developing expertise, techniques and methodologies by measurement campaigns, pilot and field research for assessing the current condition, improving and preventing it and resolving problems.

The expertise is then implemented in decision making tools. In particular, odour and corrosion protection are an important focus point in research on asset management.

A STRONG ALLIANCE WITH RESEARCH PARTNERS

Aquafin's R&D department consists of about 25 research engineers working on projects within Aquafin's area of expertise. For this purpose, they often collaborate with national and international partners, with the close involvement of the client.

At the site of the wastewater treatment plant in Aartselaar, close to the company's headquarters, Aquafin built a research hall equipped for pilot-testing new techniques and technologies. Four technical experts are responsible for the building and the operational control of the pilot set-ups in this research hall.

In addition, full scale tests can be carried out on Aquafin's wastewater treatment plants. The diversity of treatment types and capacity is an additional strength in this respect.

Aquafin's wastewater treatment plants all have their own laboratory facilities, where technical personnel perform the basic analyses. Specific analyses and analyses as part of research are carried out by specialized laboratory technicians in our central laboratory in Aalst.

Currently we participate in the following European projects: TREATREC, R3 WATER and QUICS.

TREATREC

TreatRec - Interdisciplinary concepts for municipal wastewater treatment and resource recovery. Tackling future challenges (Grant agreement no: 642904)

The utilities of the wastewater sector have to prepare to face a multitude of future challenges such as the recovery of resource, the removal of emerging contaminants and a higher sustainability in process operation.


The goals of the project are:

To evaluate technological feasibility and cost-effectiveness of several advanced treatments focusing on nutrient recovery and removal of emerging contaminants.
To improve scientific understanding of the fate and behaviour of understudied emerging micro contaminants during wastewater treatment.
To identify the role of each treatment unit within a WWTP related to the micro contaminants removal, nitrogen and phosphorous recovery or removal with energy consumption, reliability and performance levels.
To encapsulate process knowledge acquired in the project in the form of a decision support system that will allow decision makers to make more qualified decisions.

The project will be performed by 5 PhD students. Four of them will spend part of their time at Aquafin to work on the following assignments:

Pilot works of three different advanced processes for pharmaceuticals removal in effluents: Ozonation, Biological Granular Activated Carbon (the patented 'BioMAC'), and bio-augmented sludge with the Phoma fungi.
Pilot works on struvite recovery, Sharon and Anammox
Integration of the multiple facets (technical, economic, environmental, etc ) of the available technological solutions into a Decision Support System.


The project runs from January 2015 to December 2018

www.treatrec.eu

R3 WATER

R3 Water - Reuse of water, Recovery of valuables and Resource efficiency in urban wastewater treatment

The R3 Water project is funded by the European Commission under the Framework Programme 7, the project is coordinated by the IVL Swedish Environmental Research Institute. Aquafin is the only Belgian partner in this project.

The main objective of the project is to demonstrate solutions that support the transition from a treatment plant for urban wastewater to a production unit of different valuables. In three different European countries, several demonstration sites will be built, to test the impact of innovative solutions/ new technologies if marketed. The objective for Aquafin is to demonstrate 7 cases (on full-scale) on Belgian WWTP's.

Reducing aeration energy by fluidic oscillation technology
Increasing methane content in biogas from anaerobic digestion by fluidic oscillation technology and improved control
HTC (hydro-thermal carbonization) processing of Aquafin sludges
Resource recovery from mono-incinerated ashes
Demonstration of an Anammox control system
Whole plant modelling for energy reduction
Demonstration of OptimEDAR, an affordable online aeration management scheme


http://r3water.eu

QUICS

(Quantifying Uncertainty in Integrated Catchment Studies)

QUICS is an EU funded Project through FP7 Marie Curie Initial Training Network (ITN) and coordinated by the University of Sheffield. The overall aim of QUICS is to apply uncertainty to water quality models. This means all possible elements (parameters, measurement data,...) which can affect the result of a catchment model, are included in the analysis. For example, an incorrect measurement from rainfall data may unexpectedly have an important influence on the model output. During this project, existing statistical methods, which calculate the uncertainty on the result, will be assessed. In the long run Quics wants to develop a user-friendly method which can easily be integrated to the existing models. As an associate partner, Aquafin is involved in the training of some PHD students who will work on uncertainty analysis of available models.

www.quics.eu

Past Projects

MINOTAURUS

MINOTAURUS PROJECT - MIcro organism and enzyme Immobilization: NOvel Techniques and Approaches for Upgraded Remediation of Underground-, wastewater and Soil. Minotaurus aims at improving the effectiveness of water treatment technologies for micro pollutant reclamation through precise and reliable biotechnological processes. The project aims at enhancing predictability of process performance and developing advanced, efficient and socio-economically acceptable technological solutions by intensifying degradation processes through immobilisation of biocatalysts.

www.minotaurus-project.eu

INNERS is short for Innovative Energy Recovery Strategies in the urban water cycle. It is a project supported European Regional Development Fund through the Interreg IVb transnational cooperation programme. INNERS aims at improving the energy consumption and balance in the urban water cycle. The ultimate aim is to devise an urban water cycle that will be energy neutral or even an energy producer.

The urban water cycle is regarded as a whole. Tools for the quantification of energy consumption will be made within the INNERS consortium. Demonstration projects for anammox, a heat distribution system, sewerage heat recovery, an online energy optimization system for wwtp's, etc. will be executed by the different partners. Inventories and an energy balance assessment tool will support politicians and companies to improve the energy consumption in the urban water cycle.

Aquafin will apply amongst others its diverse expertise on modelling. The unified approach of quantifying

the net energetic effect of heat recovery by means of heat pumps in sewerage systems
the effect on waste water treatment
the environmental impact through life cycle assessment


should result in guidelines for installing heat pumps in sewers. These guidelines should provide a sound basis to provide the maximum energy recovery from sewerage at the lowest environmental impact and negligible impact on waste water treatment.
www.inners.eu
SANITAS
SANITAS was created to meet the deficiencies in human resources in European Urban Water System (UWS) management, the need for applications of technology and for sustainability through development of an integrated technology, knowledge and action base. The role of Aquafin in this project is the development of a phenomenological tool for the assessment of emissions from sewer systems by predicting water quality of sewer overflows in combination with existing hydraulic models. Secondly, the development of a robust tool for sensitivity analysis and cost optimization of the integrated urban water system able to derive the most cost-effective parameters of the integrated UWS model by adaptation and optimization of the control strategies at hand for sewer system and WWTP.
www.sanitas-itn.eu
RAINGAIN is a transnational project aimed at improving the prediction of pluvial floods in our cities. The frequency and the damages of pluvial floods in urban areas are expected to increase as a consequence of climate change and urban development. New solutions are needed to cope with intense storms and to reduce the risks for populations and infrastructures. RainGain develops and tests innovative tools and practices based on the use of high resolution radars in four pilot cities: Leuven, London, Paris, Rotterdam. The project is funded by theEuropean programme Interreg IVB NWE.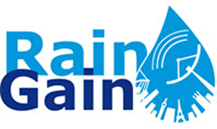 www.raingain.eu