A safe (working) environment
Safety is a top priority for Aquafin. We apply strict safety regulations, whether for the sake of our employees, our contractors or the environment in which we work.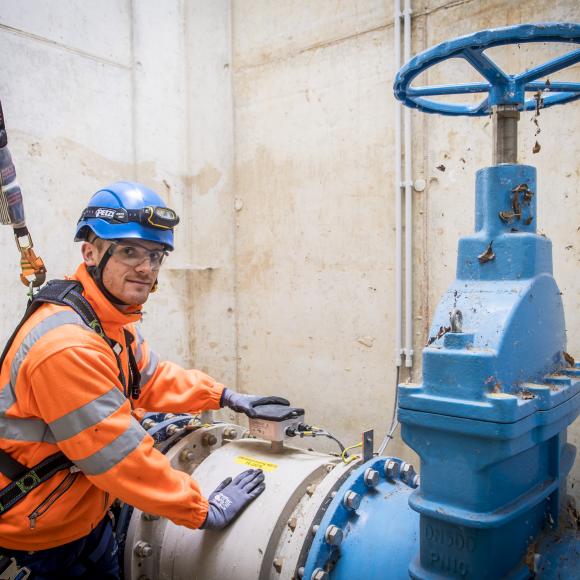 Working for Aquafin
Here at Aquafin, we are doing our best to achieve zero accidents, the one and only target in the field of safety which is morally justifiable via-à-vis our employers, partners and suppliers. Aquafin wants to be a frontrunner in the field of safety. This is why we are encouraging and promoting a conscious safety culture among our employees and everyone performing work for us.
Training and guidelines
Safety courses have to be taken before certain tasks on our infrastructure can be carried out. Aquafin employees take these courses in-house. Employees of the contractors, engineering firms and disposal companies which work for us can take the necessary courses at a recognized training institution. Aquafin also offers courses via e-learning.
We also make guidelines available to our contractors on how to deal with risks specific to our infrastructure.
The STOP principle
Anyone detecting an unsafe situation at one of our building sites or on our infrastructure is authorised to temporarily stop the work until it is safe to restart. This principle applies not only to Aquafin employees but also to technical partners and suppliers. We ask for every such STOP to be reported, not with a view to blaming anyone, but to learn from it and prevent it from being repeated.
In 2020, STOP was said 188 times. This high number is a good sign as it shows that unsafe situations are noticed. This mostly involves brief pauses during which complusory hard hat wearing or the correct process when descending into confined spaces is pointed out.
PPE
Personal protection equipment or PPE is there to ensure that employees are protected from exposure to physical risks. Examples of PPE include helmets, safety shoes, safety goggles and ear protectors. There are clear rules governing the mandatory wearing of specific types of PPE for specific types of work in specific places. In 2020, a series of measures was devised which will come into effect in 2021 and further formalise Aquafin's safety policy with regard to our technical partners. A new matrix was als devised for compulsory wearing of PPE in clearly defined situations.
Proactive safety at our waste water treatment plants (WWTPs)
Performing work on a waste water treatment plant (WWTP) involves specific risks. To further raise safety levels at these plants, we have developed a proactive safety policy based on the ten most common risks.
The safety attitude of the contractors and suppliers we work with is very important. In the future, we therefore intend only to allow technical partners with their own certified safety management system to work in our plants.
The proactive safety policy is currently being rolled out in consultation with our technical partners.
Safe environment
Sewerage works are conducted in the public domain – people live in the streets where we work, streets that are home to schools, public institutions and all kinds of traders. It cannot therefore be ruled out that people will pass by or even enter the construction site. We have a series of measures designed to minimise safety risks. Any construction site must be clearly fenced off and have appropriate signalling. Information boards indicate the associated risks.
In addition, we emphasise these risks in meetings and circulars for residents. We request them to only enter the site when there is no other way to get round it and we give them tips on how to do this as safely as possible. For example, we tell them to ensure that they can be seen by site workers and that they themselves see and hear all movements.