Doing business sustainably
Clean watercourses and a living environment in harmony with water.... that is clearly a very socially responsible aim. But our approach to realising these objectives also has to be as sustainable as possible.
Clean watercourses and a living environment in harmony with water...
We work towards this every day. To make progress towards achieving this goal, we clearly have to be financially sound as a company first. But, the way in which we realise our objectives also has to fit in with how we want to be: with respect for nature, our employees and our environment. We have summed up our vision of this in the three pillars of our sustainability policy: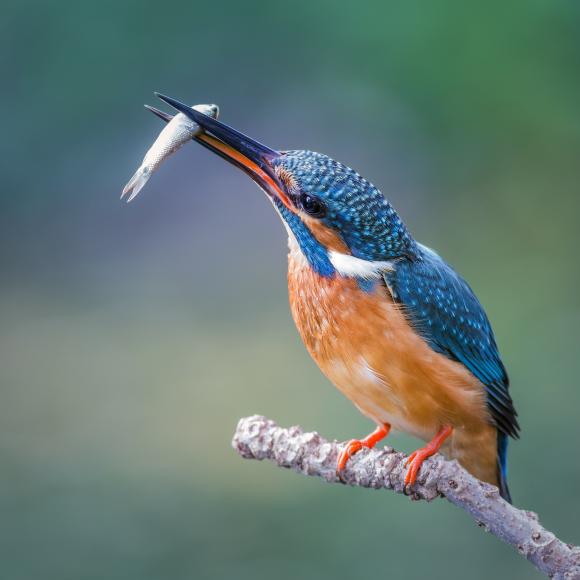 We don't engage in greenwashing.
The points we will be working on for the next few years must really contribute to improving our living environment:
Immission-oriented treatment and transportation of wastewater: meaning that the watercourse is central. Since one stream is already more vulnerable than another, we believe it makes sense for our treated wastewater to allow for this.
Greater biodiversity at our plants and in our projects: a treatment plant is the ideal biotope for all kinds of insects, birds and the vegetation they need. By fully committing to an eco-friendly orientation, native vegetation and ecological management, we contribute to conserving our planet, even if only for the little bits over which we have control.
Refining and implementing our policy plans around energy and mobility: the drier the sludge, the less is transported by road. We also constantly seek ways of making the treatment process more energy-efficient.
Applying circular thinking to our activities: through smart purchasing and maximum recovery of raw materials and energy, we can make a contribution to the circular economy.
Each of the 17 Sustainable Development Goals of the UN is specifically oriented towards a particular aspect of the environment, society or the economy. All levels of the figure below fit together and are thus interlinked. Through our sustainability policy, we can interact with each level, not just the lowest.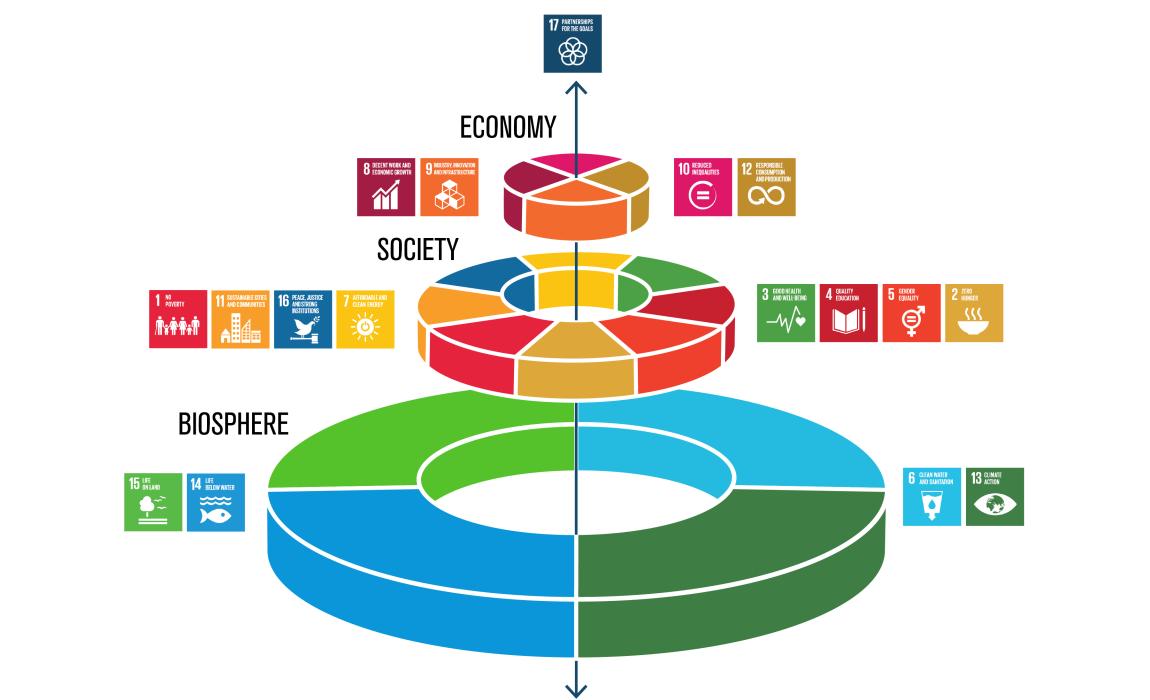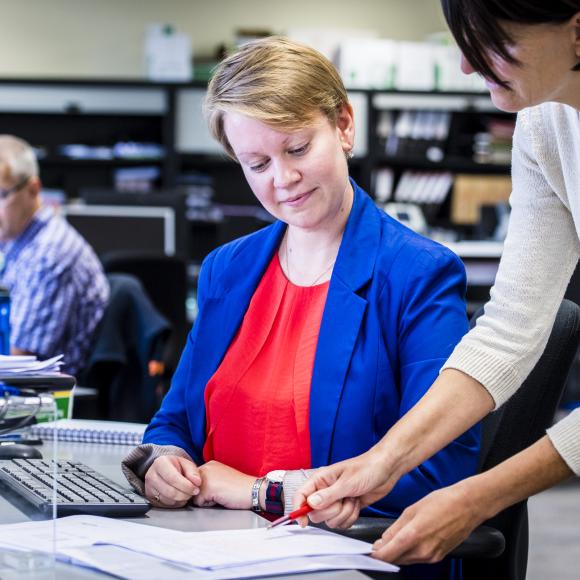 ... for our employees
Our employees are our most important asset. So, one of the pillars of our CSR policy also revolves around them. We offer opportunities to maintain the work-life balance and make efforts to improve mobility, foster a culture of safety, gender equality, trust and autonomy, self-control and an IT environment which provides the necessary flexibility.
The world turns quickly. Our environment is constantly changing and as a dynamic company we want to be flexible enough to keep up with the relevant evolutions. In view of this, Aquafin facilitates its employees so that they know where the company wants to go and what role they can play in this. We want them to see changes and evolutions as a new opportunity, not a threat. We encourage them to take their future within the company into their own hands.
We open our doors to municipalities, partners, local residents, other companies... thereby creating a community around Aquafin in which it is pleasant to spend time.
Public works always involve some disruption. We make sure that the disruption to the neighbourhood is kept to a minimum and give those affected proper and timely notice.
Aquafin wants to play a proactive role in landscaping public spaces by incorporating the superstructure in sewerage projects. Using plenty of vegetation and water is key here.
Together with our employees, we want to make a contribution to projects in developing countries to do with drinking water and/or sanitation.
Water robust towns, cities and municipalities
Working towards a living environment in harmony with water also means allowing for the impact of rainwater. Due to climate change, we are faced with more water in a short period of time in the summer or long, wet periods in winter. We design workable stormwater plans for towns, cities and municipalities containing functional measures, combined with elements raising the amenity value and promoting biodiversity in urban areas.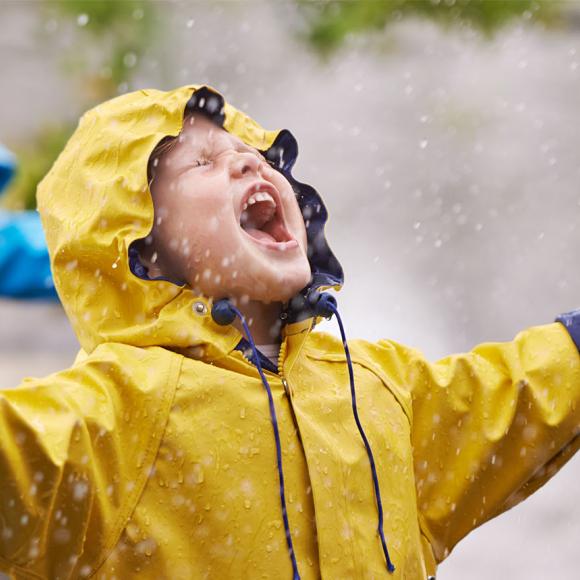 Flanders is the region in which we work on a daily basis. But we also care about water quality outside of Flanders. 
On the one hand, our subisdiary Aquaplus mainly provides consulting and engineering services on a commercial basis in the international market.
On the other hand, we support projects of NGOs and not-for-profit organisations designed to improve water quality and access to drinking water and hygienic sanitation in developing countries. We consider the expertise which our employees contribute on a voluntary basis to help the project succeed to be just as important as the financial support we provide. In this way, we also help to make the projects more sustainable.
Join for water (Protos)
Join for water (Protos) is a professional NGO committed to fair, sustainable and participatory water management and consumption. We have already worked together for many years. The latest projects in which we have taken part focus on developing and improving the sanitation chain for latrines in Madagascar and Mali. We advised on aspects including the choice of system, while two employees guided the local managers in Madagascar in dealing with sludge.
Entrepreneurs for Entrepreneurs
Aquafin is a key member of Entrepreneurs for Entrepreneurs. Through this organisation, we support entrepreneurship in low and middle income countries in Africa, South America and Asia. This can either be through cooperation with an NGO or via B2B projects. Several employees are in the expertise network or help the not-for-profit organisation with communication around their projects.
Young Water Fellowship
We are a partner in the Young Water Fellowship of Young Water Solutions. Under this programme, ten promising young people from developing countries are given the opportunity to realise a water project in their home country. This enables places where there is a shortage of clean water to be helped by local young people. Our employees advise the young people in this programme on their assignments.
After taking part in the first successful programme, we are also involved as partners in the follow-up measures for the next three years, up to the end of 2020.