Doing business sustainably
Clean watercourses and a living environment in harmony with water.... that is clearly a very socially responsible aim. But our approach to realising these objectives also has to be as sustainable as possible.
Clean watercourses and a living environment in harmony with water...
We work towards this every day. To make progress towards achieving this goal, we clearly have to be financially sound as a company first. But, the way in which we realise our objectives also has to fit in with how we want to be: with respect for nature, our employees and our environment. We have summed up our vision of this in the three pillars of our sustainability policy:
SDG's are our compass
Each of the 17 Sustainable Development Goals of the UN is specifically oriented towards a particular aspect of the environment, society or the economy. All levels of the figure below fit together and are thus interlinked. Through our sustainability policy, we can interact with each level, not just the lowest.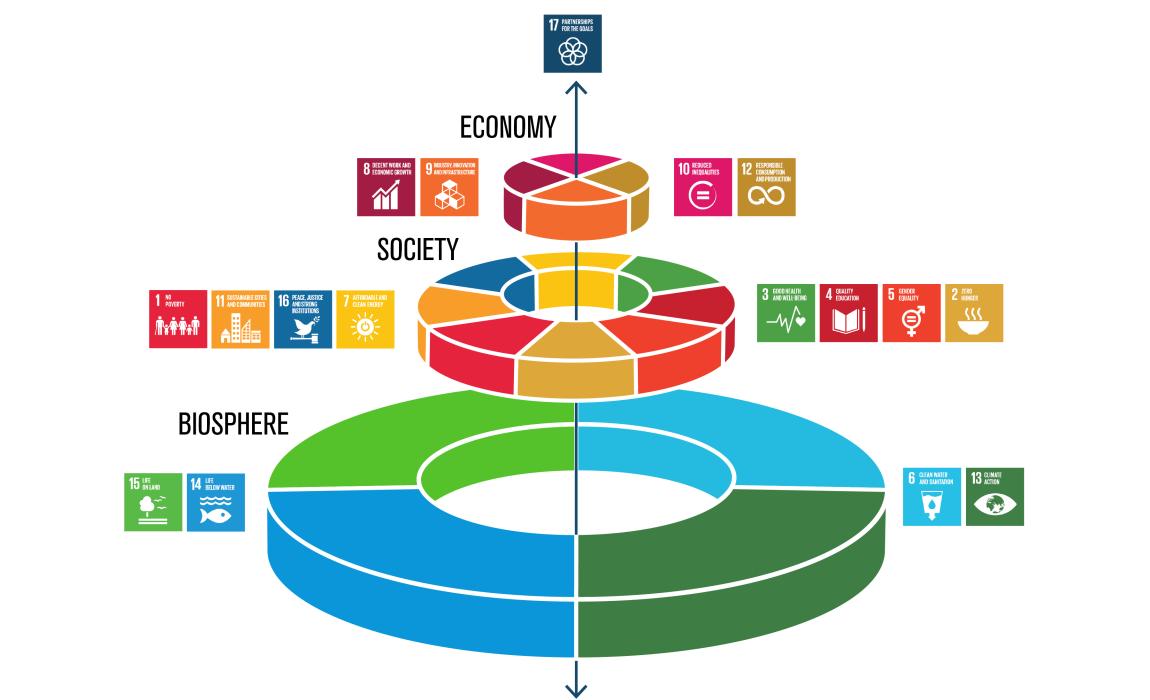 Flanders is the region in which we work on a daily basis. But we also care about water quality outside of Flanders. 
On the one hand, our subisdiary Aquaplus mainly provides consulting and engineering services on a commercial basis in the international market.
On the other hand, we support projects of NGOs and not-for-profit organisations designed to improve water quality and access to drinking water and hygienic sanitation in developing countries. We consider the expertise which our employees contribute on a voluntary basis to help the project succeed to be just as important as the financial support we provide. In this way, we also help to make the projects more sustainable.
Join for water (Protos)
Join for water (Protos) is a professional NGO committed to fair, sustainable and participatory water management and consumption. We have already worked together for many years. The latest projects in which we have taken part focus on developing and improving the sanitation chain for latrines in Madagascar and Mali. We advised on aspects including the choice of system, while two employees guided the local managers in Madagascar in dealing with sludge.
Entrepreneurs for Entrepreneurs
Aquafin is a key member of Entrepreneurs for Entrepreneurs. Through this organisation, we support entrepreneurship in low and middle income countries in Africa, South America and Asia. This can either be through cooperation with an NGO or via B2B projects. Several employees are in the expertise network or help the not-for-profit organisation with communication around their projects.