Research & Innovation
Aquafin's research strategy focuses on the global challenges for wastewater treatment.
Zero-waste water cycle
The aim of the zero-waste principle is to avoid or at least reduce the production of waste. For the urban water cycle this means that all waste flows such as emissions into the air, raw materials and treated waste water are efficiently recycled.
Aquafin researches, develops and tests technologies that ensure in a cost- and environmentally efficient way that, for example, treated waste water can be used as an alternative water source or that micropollutants can be removed in the treatment process.
Robust and healthy water systems
Urban water systems are under enormous pressure. Climate change leads to both lengthy periods of drought and extreme rainfall that quickly causes local flooding. The water is rapidly discharged into the sewer and then enters the sea directly or via water treatment. If paved surfaces and sewer systems continue to be designed as before, the problem will only increase in future.
Aquafin seeks solutions at source. Through innovative and creative design, we contain the stormwater for soaking away, buffering and possible recycling after treatment.
Digital water value chain
Digital solutions are essential for applying zero waste principles and making the most of opportunities for value creation. A robust and healthy water system keeps the right quantity and quality of water in the right place at all times. Aquafin is investigating the possibilities of a multi-agent system that not only optimises the processes but also has a positive impact on the use of energy and materials.
Eco-efficient business models
Our goal is to minimise the ecological footprint of our treatment process. Through monitoring and LCA programmes (life cycle analysis), we track emissions of CO2, N2O and CH4, for example. This enables us to detect precisely what are the hotspots for these emissions and do something about this.
A strong alliance with research partners
Team of experts
Aquafin's R&D department consists of about 25 research engineers working on projects within Aquafin's area of expertise. For this purpose, they often collaborate with national and international partners, with the close involvement of the client.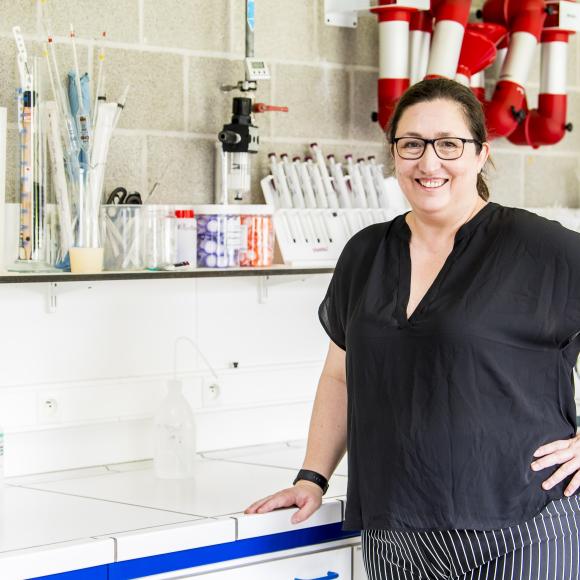 Research facilities
At the site of the wastewater treatment plant in Aartselaar, close to the company's headquarters, Aquafin built a research hall equipped for pilot-testing new techniques and technologies. Four technical experts are responsible for the building and the operational control of the pilot set-ups in this research hall.
In addition, full scale tests can be carried out on Aquafin's wastewater treatment plants. The diversity of treatment types and capacity is an additional strength in this respect.
Aquafin's wastewater treatment plants all have their own laboratory facilities, where technical personnel perform the basic analyses. Specific analyses and analyses as part of research are carried out by specialized laboratory technicians in our central laboratory in Aalst.