Consuming less energy, producing more ourselves
Aquafin is well on its way to making the energy transition, with a carefully designed plan expected to cut consumption by a third and boost self-generated green electricity by a third by 2040. The necessary investment resources are coming from an Energy Fund into which the proceeds of previously implemented energy measures are being poured – a self-refuelling "rolling" fund.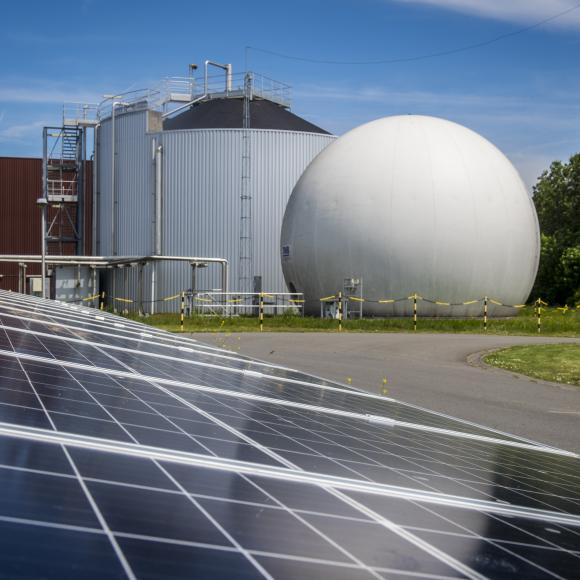 We do 1% better each year
Although treating waste water has a positive impact on the environment, there is also a downside. Its transport by pumping, its biological treatment via aeration and the treatment of the sludge residue all require large amounts of energy. Investments in equipment such as blowers and mixers that offer greater energy efficiency have already led to significant savings in recent years. These can be further boosted by running this energy-efficient equipment in an energy-efficient manner through improved algorithms and measuring devices.
Via our treatment trending data, we are able to closely monitor which controls are most appropriate to achieve treatment norms with the lowest possible energy consumption.
Aquafin has set itself the target of reducing its energy consumption by 1% a year, based on the reference consumption of all its managed assets. This target was achieved in 2019, and consumption is now 3.4% below the reference value. The target for this year is 4.4%. In addition, we want to completely stop using fossil fuels by 2030.
More solar parks
Many of our treatment plants are ideal sites for installing solar panels, whether on the roof of a building or as true solar parks on the site itself. In 2019, 10 locations were equipped to produce solar energy. Fully operational, they should produce 6 GWh, equivalent to the consumption of 1,714 households. However, 2019 output only reached 750 MWh, as most of the panels were only installed in the second half of the year. Aquafin intends to build further solar parks up to and including 2023. Most of the green energy produced is used on-site.
Biomethane from sludge
Even before the installation of solar panels, Aquafin was already producing green electricity through fermenting sludge to biogas. Production in 2019 reached about 14 GWh. Biogas is a mixture of methane (CH4) and CO2. Aquafin is currently planning to build a facility on one of its treatment sites to upgrade the methane to biomethane, a fossil-free gas with the quality of natural gas. This way, we will be creating our own fossil-free fuel, while at the same time getting even more out of fermenting sludge.