Annual reports
Download our recent annual report
Annual report 2020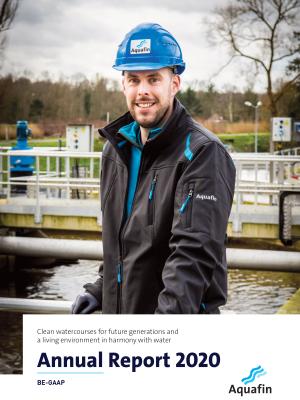 An exceptional year
2020 was an exceptional year, to put it mildly. The outbreak of the coronavirus pandemic put enormous pressure on social and economic life. Despite this, Aquafin managed to adapt swiftly during the first lockdown in the spring, keeping the impact on results low. Hundreds of employees immediately switched to working from home all the time and the necessary steps were taken right away so that our operational teams could work safely. Transporting and treating waste water is an essential service and continued uninterrupted. Beside this, since the summer, we've been taking in part in a Flemish study and Sciensano's national surveillance study, both aimed at detecting traces of coronavirus in sewage to spot local outbreaks.
However, some of the sewage projects for which Aquafin was main contractor were paused at the instigation of contractors because the coronavirus measures could not always be respected. Aquafin took the lead almost immediately in working out guidelines with the sector and the government for resuming work on site safely. Thanks to the good cooperation between the project partners, almost all activities resumed by the end of April. Despite the difficult circumstances, we were able to fulfil our commitment to the sector and put 269 million euros' worth of new projects out to tender. We also managed to deliver 176 million euros' worth of projects to the Flemish Region, including 34 million euros' worth under asset management.
Dealing with societal challenges
Apart from coronavirus, in 2020, the drought and the associated water shortage dominated the news once again for several months. Aquafin's strong representation in the Blue Deal demonstrates our widespread recognition as a specialist in smart water management. In this multi-sectoral action plan of the Flemish Government, CEO Jan Goossens is a member of the High Level Taskforce and an expert from Aquafin has been appointed project coordinator.
Although very important, the impact of the long drought is just one of the many challenges in our sector. Aquafin approaches them with a fresh eye, allowing innovation full rein. The first results of two years' increased focus on innovation became visible last year in some sustainable concepts with added social value. After all, that's what is at the heart of our strategic compass: being relevant to society and the environment. Accordingly, we are taking concrete steps towards building our first plant to produce biomethane from the digestion of sludge.
Green Finance Framework
We are also noticing ever-growing interest from lenders to invest in projects of a sustainable nature. We capitalised on this by successfully launching our first Green Bond in the spring under a brand-new Green Finance Framework. This is just one example of how, by listening to and connecting with our stakeholders, we match their requirements. This approach will also be central to the new coordinating role we have been given by the Flemish Region in aligning municipal and supra-municipal investments more closely and creating synergies for more efficient water management.
Last years