Annual reports
Download our recent annual report
Recent reports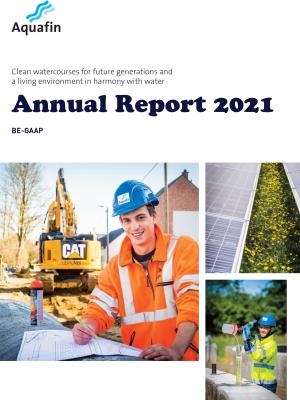 A turning point for Aquafin
The annual report 2021 is issued at a turning point for Aquafin. This year, we say goodbye to a 'management agreement' and look forward to a new 'cooperation agreement' with the Flemish Region. Much more than a difference in words, the new cooperation will be visible in everyday practice. In fact, the Region is trusting us to define autonomous supra-municipal projects that match investments at municipal level and therefore bring the maximum ecological benefit. Therefore, from this year, all new projects will come about in consultation with and with the involvement of the relevant stakeholders.
In 2021, we put 196 million euros' worth of new supra-municipal and 109 million worth of projects for municipalities out to tender. Due to the fast-tracked deadline for submitting GIP dossiers (municipal sewerage projects eligible for a subsidy from the Flemish Region), this was considerably more than estimated. Last year, we managed to complete and deliver to the Flemish Region a total project value of 176 million euros. We found that a shortage of raw materials not only delayed the start of works, but also had a marked impact on prices.
Investments in asset management
In addition, investments in maintaining existing infrastructure were increasingly important. In 2021, we carried out 41 million euros' worth of asset management projects. The reinvestment value of the assets we manage stands at around 7 billion euros. The growth, but above all the obsolescence of our assets leads to an increasing budgetary requirement for repairs and replacements year by year. By 2030, we expect to need around double the current budget to keep the infrastructure working efficiently.
Focus on sustainability
Working towards clean watercourses is and remains our core business. However, corporate social responsibility also plays an increasingly large role. Although our infrastructure serves a noble purpose, it inevitably also has an ecological footprint. Through research and innovation, we constantly seek ways of reducing this negative impact and increasing the added value. In this annual report, you can read, for example, how we are making better use of our crude biogas with the start-up of our first biomethane unit and how we are offering towns, cities and municipalities a clearer view of the condition of their sewer systems with a new digital platform. Meanwhile, with the support of the Flemish Region, we are working hard to digitalise the water chain. This will enable our infrastructure to fulfil many more functions in future in response to ecological and climate challenges.
Last years