Annual reports
Download our recent annual report
Annual report 2017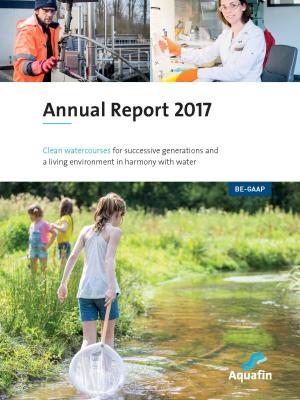 2017, a year that saw several major changes
For Aquafin, 2017 was a year that saw several major changes. Firstly, the Flemish Government has granted us more autonomy than before to define projects designed to keep our infrastructure in good condition. This will enable us to carry out even major renovation projects more quickly in future. As the assets age, the need for replacement and renovation also grows, leading to a constantly increasing budget for this kind of investment. Furthermore, the Flemish Government approved the formula of the budget model. This model makes the budget for our activities dependent on a series of packages, the assets and the pollution load treated.
Confidence of the Flemish Government
Our supra-municipal responsilbilities were renewed through the approval of the 2018 Optimisation Programme. Foru our core business of treating domestic waste water, we achieved excellent results: 99% of the treatment plants assessed, complied with all applicable standards.
Since we are convinced that we can still offer society much more added value, we apply our knowhow and infrastructure where we can to meet society's requirements. When water resources came under pressure during the extremely dry spring of 2017, we made our treated waste water available to agriculture and industry. Also last year, we made great strides in research into the role that a treatment plant can play in the development of heating grids. This brings water treatment as a recycling plant a step closer.
Last years