Key figures
Every year, the Flemish Region funds projects for implementation by Aquafin under the Optimisation Programme. Following delivery to the contractor, Aquafin submits the project to the Financial Regulator from the Flemish Environment Agency for delivery to the Flemish Region. Delivery to the Flemish Region means that the costs incurred are approved and Aquafin has a contractual right to their repayment, spread over the next 15 (electromechanics) or 30 years (construction engineering). In future, the proportion repaid over 15 years will increase. Since its establishment, Aquafin has taken over several existing plants whose electromechanical components are due for replacement. Such replacements come under the "asset management" portfolio.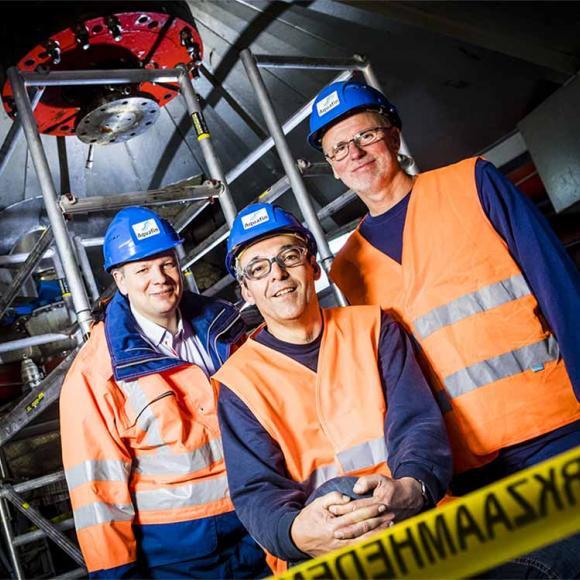 Infrastructure managed on behalf of the Flemish Region as at 31 December 2021
325 waste water treatment plants
1,974 pumping stations and storage settlement tanks
6,902 km of pipes
Financing the treatment of water
The "fin" in Aquafin stands for finance, one of the main reasons why the Flemish Region set up Aquafin in 1990. At that time, just 30% of domestic waste water in Flanders was treated before entering a watercourse. Aquafin not only had to develop the treatment infrastructure rapidly and manage it, the company also had to finance the projects necessary for this. This ensured that the impact of the huge investments on government budgets remained low.
The polluter pays
The water companies are obliged by decree to treat the water they supply. They have entered into an agreement for this with Aquafin, which assumes the task of treatment for them. Aquafin invoices the water companies for the investment costs over the specified term, along with the company's operating costs. The water companies pay part of Aquafin's invoices via a grant from the MINA fund, topped up by general tax revenue. They pass on the remainder, currently around 60% of the total bill, to consumers according to the principle of "the polluter pays".
The Flemish Region is a co-debtor in this invoice flow. As Aquafin's investment expenditure is repaid spread over a period of time, the company has to raise finance for this. Long-term financing for a project is only possible once it has been delivered to the Flemish Region, because only then is the company sure of spread repayment. These long-term investments therefore involve no construction risk for the investor. Aquafin covers short-term financing during the implementation of a project with commercial paper, lines of credit and general corporate purpose financing.